Registration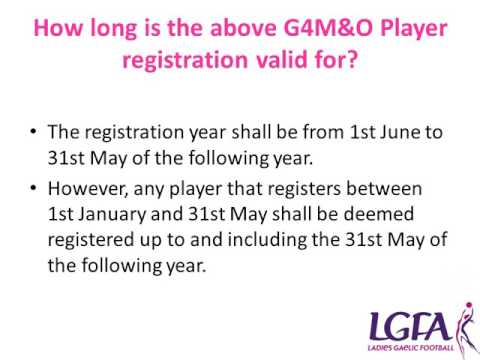 It is important that you submit your Lidl Gaelic4Mothers&Others site details with the Association before you start. Simply download and complete the below ethos form and forward to:
Aisling Doonan, National Development Officer, Croke Park Dublin 3 or email: aisling.doonan@lgfa.ie
It is important that you also ensure all your participants are registered Gaelic4Mothers&Others members of the Association before they can participate in blitzes. This is completed through the normal registration process with your club registrar.
Below is also a sample participant registration form that you may use on site for your club to gather individual player details. Please note this is not the official registration form to register players with LGFA.
Registration FAQs
Does a Registration fee apply for the first six weeks of the programme?
No, for the first six weeks of the programme players are not expected to pay a registration fee. Clubs may apply a small fee to assist with paying registration after the six weeks or with fundraising but no registration fee applies for anyone participating in the first six weeks from LGFA perspective
When should players commence thinking about registering with the LGFA?
After 6 weeks, it is the clubs decision to continue running the initiative. All players must register as official members of the Ladies Gaelic Football Association through their club registrar if they wish to continue participating. Please note, G4M&O participants cannot pay into the injury fund.
What are the registration costs associated with the Programme?
0 – 6 Weeks No cost associated with same from LGFA point of view6 + Weeks Must pay 12 Euro G4M&O Registration fee through club registrar
Breakdown is as follows:
2 Euro per player payable to the Club
2 Euro per player payable to the County Board
2 Euro per player payable to the Provincial Council
6 Euro per player payable to Central Council
How long is the above G4M&O Player registration valid for?
The registration year shall be from 1st June to 31st May of the following year. However, any player that registers between 1st January and 31st May shall be deemed registered up to and including the 31st May of the following year.
Does paying the registration fee for G4M&O provide me with full voting rights within my club?
No, only full members and full playing members joining the club after 31st June shall be entitled to vote at meetings.
If I am registered already as an administrator or coach with my club, do I need to pay the €12 registration fee for G4M&O also?
No, if already registered with the Association then you are not required to pay the extra €12 G4M&O fee
How can I pay my Registration?
If your club has a Ladies Football section, then you register as normal paying the appropriate fees through the club registrar.
If your club has no ladies football section in the local GAA club then you can contact maire.nimhaoilchiarain@lgfa.ie to get a log in for your club to register through the electronic registration system. The cost to use this system for the year plus full support is €30. This will be €15 after the first year
If there is no GAA or ladies club in your area then you need to contact maire.nimhaoilchiarain@lgfa.ie to discuss setting up for the registration process
If players who do not want to register through the club that which you are attending the G4M&O programme then they can register through their home club using the same process as point 1 above with their club registrar
Must I renew my registration each year?
Yes, registration applies on an annual basis.
Do affiliation fees apply?
No, as G4M&O are not an official team or club
Do fees apply to Provincial and National Blitzes?
Yes an entry fee will apply to Provincial and National Blitzes to assist with costs of running same.
ALL players must be registered members of LGFA to participate in these blitzes
Sponsored by