Match Report and Dublin's Winning Goal from the Aisling McGing Memorial Championship Final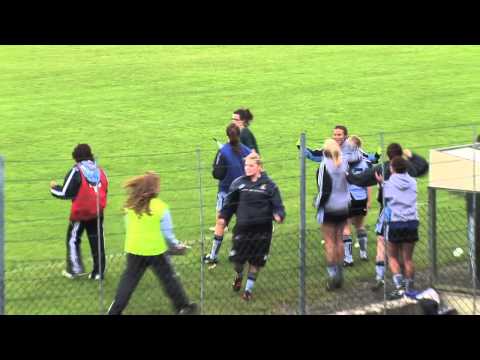 Determined Defending and a Nicole Owens hat –trick see Dublin bring Aisling McGing Cup back to the Capital
MacDonagh Park in Nenagh witness 60 minutes of outstanding defending as the Dublin took on Kerry in the Aisling McGing Memorial Championship Final. Kerry drove forward relentlessly lead by number 11 and captain Mary Herlihy but Dublin's defence and a hat trick of goals from Northsider Nicole Owens saw the Dubs win the title for a second time on a scoreline of 0-13 to 3-09.
The Aisling McGing Memorial Championship began in 2007 and since then it has been a Dublin Cork final every year. The breakthrough of the Kingdom into the final stage of the competition  brought extra excitement to the ground on Sunday the 31st as the large Kerry following tried to encourage their team .
Kerry, who had already beaten Dublin in the group stages of the competition, started the better of the two teams. 10 minutes into the game and Kerry were in from with early scores from Amy Foley and Mary Herlihy. As the 1st half continued however Dublin found some momentum. Ann –Marie Cahill McBarron and Aisling Barrett began to dominate the middle of the field and Kerry struggled to win their own kickouts. This midfield dominance paid off as Nicole Owes was delivered in two fine passes from Ciara Ruddy and Rebecca Davey. Both leading to Owens' cool finishes to the bottom corners. The two goals gave Dublin a nice cushion at half time as they went into the break 2-07 to 0-6 ahead.
Kerry began the second half much like they began the first. Lead again by Herlihy at 11 and Amanda Brosnan at 14 the Kerry team drove at the Dublin defence. Dublin began to give away frees in front of the posts and Brosnan was on hand to convert. Points from Brosnan, Foley and Herlihy began to close the gap on the Dubs who didn't score for long periods of the second half.
When Kerry number 7 Cassandra Buckley attacked Dublin straight down the middle and converted a fine point, a Kerry revival looked possible. For the last ten minutes of the second half however, Dublin came alive again. Captain Aimee Hazley made 4 incredible dispossessions from full back to keep Kerry at bay and inspire her team. Again the Dublin midfield of Barrett and McBarron began to dominate and it was a killer pass over the top of the Kerry defence that lead to Nicole Owens' third goal which she finished soccer style into the bottom left of the Kerry net.
Player of the match was awarded to Dublin's number 11 Hannah Tyrrell who played the role of a playmaking centre forward like a professional. Hannah also received the same award in 2010 the last time that that Dublin won the Aisling McGinf Championship.
Final Score: Kerry 0-13, Dublin 3-09.
Dublin: 1. S Turnbull (Na Fianna) 2. Rachel Byrne (Clan Na Gael Fontenoy) 3. Aimee Hazley (St Sylvester's), 4. Sarah Stritch (St Margaret's), 5. Laura McGahan (Fingallians), 6.Sarah Ryan (Naomh Mearnog), 7. Roisin Ryan (Ballyboden St Endas),19. Aisling Barrett (Clan Mhuire),9. Ann-Marie Cahill McBarron (Kilmacud Crokes) (0-1), 17. Becky Davey (Skerries Harps), 11. Hannah Tyrrell (Round Towers, Clondalkin) (0-3), 12. Sinead Deegan (Thomas Davis), 13. Ciara Ruddy (Ballyboden St Endas) (0-1), 14. Nicole Owens (St Sylvesters) (3-2), 15. Sinead Cumiskey (Parnells) (0-2).
Subs Used: 22. Aoife Gallagher (Kilmacud Crokes) for 15.
16. Serena Hannon (Clan Na Gael Fontenoy), 18. Claire Young (Kilmacud Crokes), 20. Sarah Guilfoyle (St Finians, Swords), 21. Sharon O'Toole (Craobh Chiarain), 23. Lucy Collins (Na Fianna), 24. Shona Barrett (St Brigids), 25. Niamh Keane (Clan Mhuire), 26. Kate Fitzsimons (Thomas Davis), 27. Leanne Behan (Lucan Sarsfields), 28. Orla Brennan (St Brigid's), 29. Lisa McIntyre (St Sylvesters), 30. Ellen Keatley (Scoil Ui Chonaill)
Kerry: 1. Hannah Fortune (Scartaglin), 2. Rosie Young (Abbeydorney), 3. Julie Brosnan(Scartaglin), 4. Megan Galvin(Listowel Emmetts), 5. Cait Lynch (Castleisland Desmonds), 6. Helena O'Connor (Scartaglin), 7. Cassandra Buckley (Spa) (0-1), 8. Loretta Maher (Duagh), 9. Eilis Dillion (Duagh), 10. Amy Foley (Laune Rangers) (0-2). 11- Mary Herlihy (Scartaglin) (c) (0-4), 12. Elaine O'Connor (Scartaglin) (0-1), 13. Ann Marie O'Donoghue (Laune Rangers), 14. Amanda Brosnan (Dulwich Harps) (0-3), 15. Muireann  O'Shea (Laune Rangers)
Subs used: 17 Maggie Doherty (Kilcummin)  for 9, 18. Norma O'Sullivan (Listowel) for 13, 19. Leanne Mangan (Desmonds) (0-2) for 15.
Subs: 16. Andrea O'Connor (John Mitchells), 20. Sinead Sheahan(Dromid Pearsess), 21. Sinead Guiney (Castleisland Desmonds), 22. Mairead Finnegan (Spa).