Cavan
27/10/2011: Team Lineout for 2011 All Ireland Replay

23/09/2011: Cavan TV Interviews Players and Managers
23/09/2011: Ailish Cornyn shares her thoughts on Sunday's Final.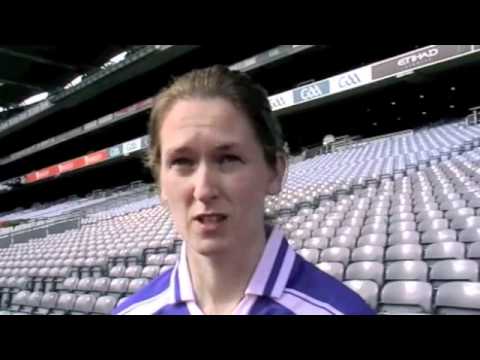 22/09/2011: Team Lineouts 2011 All Ireland Finals
19/9/2011: Cavan School Visits and Roadside signs…..
Cavan 3: 13/09/2011: Cavan's Full Back Grainne McGlade gives us an update from Cavan.

The excitement keeps on building and it's finally hitting me that we are playing in Croke Park at last. The weeks since the semi-final have been hectic, preparation for the final has taken over completely, but I wouldn't have it any other way! In the past week we've had a media launch with the local newspapers. It was a great opportunity for photos and to voice our opinions on the game as a team. Our promotional posters were then launched to generate support  within the county, it was a definite success and our support increases daily. Renée's picture has obviously captured the hearts of the county, what a beaut! Haha

Last week we visited as many primary schools in the county as we could. It was so good to be in Arva primary school holding the Ulster cup with Ciara and Donna. Everywhere we went there were flags and posters that the children had made for us. It's great to get such support from the places we started out in. Now  I'm back in college in Maynooth and I'm so amazed at the support I'm getting – people shouting at me on campus and having people I've never met shake my hand.

Training is pretty intense at the moment, everybody is putting the work in and the fight for places is still going, especially after such strong performances from the entire panel in the semi-final. After watching the second semi-final and seeing Westmeath win we know it's going to be a tough game all round. At least now we know what to prepare ourselves for and that's what we're going to do. So now it's 12 days away…288 hours approximately…but as Bronagh would say who's counting…!!!

Cavan 2: 30/08/2011:

Star Forward Bronagh Sheridan reflects on their Intermediate Semi Final Win.

Three days now since the final whistle in Cashel and the body and mind are only just recovering. We made hard work of it anyway! Watched the game back yesterday on the TG4 Player and the first half did not make very pretty viewing. Yes we had an exceptionally strong wind to contend with but even so, frees conceded and ball distribution into our inside line (myself being prime culprit) are just 2 things we are going to have to address when we get back to training tomorrow night.

It seemed like we were finding it incredibly tough to get any scores on the board whereas when Leitrim went back down the field Aine Tighe was popping them over for fun from all angles. Suffice to say the half time whistle couldn't have come a minute too soon.

Despite what seemed like a mountain to climb on the scoreboard, the dressing room at half time was relatively calm. We said if we could just get the ball in early and keeping chipping away at the lead then we would be there or thereabouts in the final few…little did we know! The manner in which we applied ourselves in the 2nd half was something we were all very proud of at the end. Claragh coming from full forward to intercept a ball in the half back line, Renee popping up with the equalizing point from half back, Donna driving us on from the back time after time, etc etc. Even conceding the 2 penalties didn't seem to unduly phase us thankfully.

Most of extra time is a blur but I do remember Doonan's cracker of a goal, her and that left foot save the day yet again!

The reaction since the game has been great, a lot of texts, a lot of facebook messages, a man even knocking on our car window when we were stuck in traffic in Cavan yesterday and shouting his congrats through the window!! The support has been really wonderful. From our point of view now, we are just looking forward to getting back to training on Wednesday and planning our approach for the next 4 weeks.

We will watch the other semi final with interest this weekend with Westmeath meeting Limerick. Having already lost to Westmeath in the group stages this year I think they are a very physical and well organised side who will present plenty of problems for Limerick.

Westmeath have some dangerous players, Fiona Claffey playing as a sweeper has been very effective for them and Laura Walsh has huge experience and talent. Likewise though, Dympna O'Brien for Limerick has pace to burn and an eye for goal. Dympna is a match winner and it will be very interesting to see how Westmeath attempt to put the shackles on her. 

Either way, we will look forward to meeting one of them in Croker on Sept 25th. 26 days away..624 hours approximately…but who's counting..




Cavan 1: 29/8/01 Finally…. Finally…. Finally….

They were beaten well in last year's Intermediate semi-final against Waterford. One year on and Cavan have finally reached an All Ireland Final.

It is 30 years since Cavan appeared in all All Ireland Final. In the late 70s early 80s they enjoyed inclusion in the top teams in Ladies Football. In 1977 they won the Senior Championship, lost two consecutive finals in 1980 and '81 and have not been back since.

Cavan have some of the best players in the country. To single out one player Aisling Doonan is simply outstanding. It seems to a neutral observer that the Cavan Management has made a real team out of a group of extremely talented players.

Cavan must have some serious self belief. They were nine points down in an All Ireland Semi Final; they drew level to force extra time. By the end of extra time Cavan were ten points ahead. A 19 point turnaround is not to be sniffed at especially in a high pressured match.

30 years later and back in Croke Park… can the Cavan women use the next four weeks to get themselves ready for the big stage??