Cork
23/09/2011: Mairead Kelly talks about her last night of training in 2011.
Finally Friday has arrived….. my last day in work before the game Sunday.  At this point I don't really want to talk any more about the game to anyone; I just want to play it. Being honest though Geraldine O' Flynn & I felt the same way Wednesday when I met her in Portlaoise to drive to Cork for our last training session of the year … this waiting game is a tough one!
Geraldine & I arrived down to Cork at 6.30pm to find everyone in good form.  Eleanor & Emma were in full swing giving rubs to some of the girls, while Declan O'Sullivan our physio was for the first time ever idle!!  However, on a serious note, it is a credit to the great work he has done since he joined us that there are no niggles or injuries for anyone in the squad for Sunday.
Training was short & sharp, followed by a team meeting where the team was announced. Thankfully I was named on the starting team, so I'm delighted. This will be my sixth time in Croke Park with the Cork team but this is the first time that I will actually be starting so I'm really looking forward to the day.  I think all the squad & management made a huge effort this year to get back to Croke Park after losing in the quarter final to Tyrone last year so hopefully all our work will be rewarded with Brendan Martin come 5.30 Sunday evening… Here's hoping!
22/09/2011: Interviews from Captains Day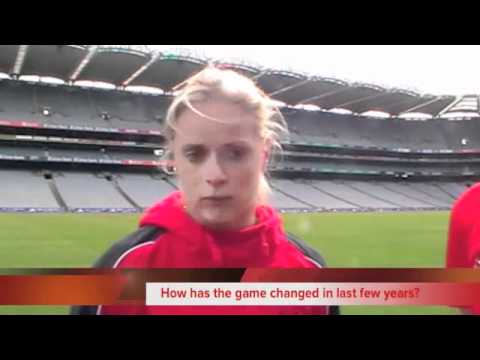 22/09/2011: Team Line Out All Ireland Final 2011
15/09/11: Cork Media embrace the Femininity of the Cork footballers…

05/09/11: Elaine Harte – Delighted to be Here but Lets Make It Count…
Last Wednesday was our first day back training since our semi final win over Laois and we were thrilled to be there. We had a few club games after the semi-final so there were a few tired but thankfully no injured bodies to report! Everyone was in great form chatting and joking! Delighted to be back at training in September! There was plenty of discussion about how the game went at the weekend and how the strong wind dictated the game. We were lucky to be in at half time level and we knew that it would be a tough battle in the second half. We were fortunate to get the goals soon after half time and this eased our nerves and thankfully we were able to drive on from there.
We were also chatting about the other semi final between Monaghan and Kerry. We have been asked who do we prefer but to be honest both teams are extremely good and either team will be very tough opponents. Like everyone else we'll just play whoever comes out, we are just delighted to be in the final!
Val is organising an event for her trip to Haiti! She is going out there on a "Build it Week" in October and she is doing some major fundraising! In fairness to her she is some organiser when she gets going. She is organising a Lady Gaga tribute show in the Pavilion in Cork on the 8th September and we are all selling tickets and we will head along to support her! Just to give her a plug anyone that wants to sponsor her you can follow this link to donate: https://www.havenpartnership.com/volman/public/donate/donate.php?vid=855 or you can keep an eye on her progress on her facebook page: www.facebook.com/valeriemulcahy.charity
So before and after training Val was ensuring that we all were selling our tickets and to get them back to her asap!!!! Right the teacher 😉 I better get selling my tickets now and get them back to her asap!!!
Soon after our chat we skipped off out to the field for training and had a good session!! The Senior B's were playing the Aisling McGing Semi final on Saturday, it would be great for them to get to the final again!
I am looking forward to the build up to the All Ireland final. The nerves will kick in leading up to the match no doubt and the fact that we are back in Croke Park is very exciting indeed! Oh I can't wait! The buzz on the day is second to none. I hope that the nerves don't get too bad and that I can enjoy every minute of it!!
We have three weeks now to get ready and hopefully we can prepare well to help us perform on the most important day of the year! This is where every team wanted to be at the start of this year and thank God we made it! Let's hope now we can make it count!
29/08/11: They're Back…….
It's official, the rebels are back! From early on the year people were talking about Cork. 'They're determined, they're focused, they're out to win'. So far they have proven most people right. Even though they have been on the road for a long time they Cork women seemed to how found a new vigour.
During their 5 in a row there were times when Cork were miles ahead of any opposition. They raised the bar and the rest of the senior counties were left chasing. The gap has closed, which is to be expected.
Perhaps in 2010 the Cork panel tired. It is hard to keep that mental and physical focus for so many years. While defences have become much better able to deal with the Cork forward line there are players all over the pitch who have reinvented themselves in order to push Cork back to the top. 2011 sees players like Juliet Murphy playing with a new enthusiasm, positivity and energy.
Cork have been in this position before. Waiting the four weeks for the All Ireland final is something they have done many times. So far they have done it right – they have never lost in Croke Park. When they get there they know how to finish the job.
Can they be stopped??