New York
7/10/2011: Team Lineout for 2011 All Ireland Replay
4/10/11: 3 of New York's Top Performers share some thoughts with ladiesgaelic.ie:
Jessie Garcia:
I played college soccer at Manhattan College in Riverdale, NY.  I joined the Bronx Irish Soccer League and that is when I got to know people who got me involved in Gaelic Football since 2007.  I have played for Na Fianna since the summer 2007.  I made the New York Ladies Gaelic Association Team in May, 2011.
I love Gaelic football because of how skillful it is and I also enjoy the integration of soccer, basketball and American football.  I feel like I was made for this game.  I also love the community.  Everyone is always looking out for each other and it reminds me of back home in Colorado. I love the passion and love from the players and fans for the game  they are unbelievable.  But most of all, I love the uniforms!  Playing in Croke Park wasthe highlight of my athletic career.  I have played many different levels of sports.  I played Division 1 soccer, semi-pro soccer but nothing can compare to playing Gaelic Football.  When I was a little girl, I used to dream of playing in a very important game that would change my life forever.  This coming game, is that dream come true. I am honored to play with my teammates and coaches in the All-Ireland final on Oct 9th. I'm very honored to be a part of this tournament and to get the chance to play in Croke Park.
Cathriona Brady:
So we're all set for our 3rd trip home to Ireland in 6 weeks, probably the craziest 6 weeks in any of our lives. It has been an emotional rollercoaster. But I think we are ready for our return, All Ireland final, Take 2!!! I don't think anyone could have predicted our fate when we started training at the start of the year – oh how far we have come – and gone and come and gone and come and gone!
The final whistle in the drawn game was agony. Our main worry was how on earth could we afford to come home again. The LGFA support has been crucial.  But, mainly, thanks to the Irish, American & GAA communities here in New York, the trip is possible, again. We cannot put into words how grateful we are to everyone who has donated to our cause. A million thank yous. We hope to do you proud.
Mary O'Rourke (Molly):
On the road again….Jet lag just wore off, back training, all the girls in good spirits and ready for our fortnightly trip home to Ireland!! The support from everyone here in NY has been unbelievable, thanks to each and every one of ye!! Looking forward to getting another stab at the all Ireland title:)
23/09/2001: Summer Football in New York..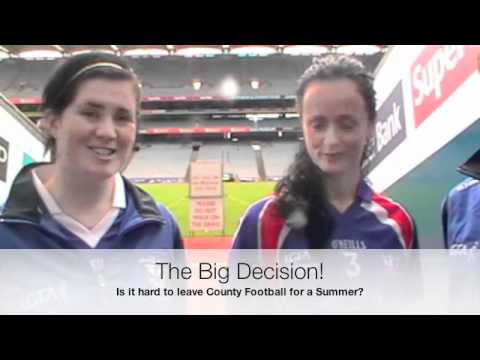 22/09/11: Team Line Out All Ireland Final 2011
19/09/11: New York Captain and Vice Captain share their thoughts….
New York Captain – Mary (Molly) O'Rourke
I'm Mary (Molly) O' Rourke from Clashmore, Co. Waterford. I've been living in NY on and off for 6/7 years. My club here is Na Fianna and this year I'm honored to be the NY captain. To date it's been a great year of football, the New York team has brought tremendous unity amongst all the clubs and players alike. We began training at the beginning of the year in sub zero conditions and continued through the summers blazing heat. Thunderstorms, hurricanes and tornados tried their utmost to stop us training but we're still standing!! Unfortunately training grounds are very tough to come by here in NY but Gaelic Park and Rockland have really accommodated us. Girls have put in huge efforts traveling from all directions, sometimes even showing up in their PJs to training!! Personally I've been involved with county teams since the age of 10 and it's still as enjoyable today as it was then…few more growing pains to deal with but I look forward to training alongside these girls every night. It's great excitement going home to play in Croke Park, particularly representing New York our home away from home right now. Here's hoping we can crown our dream we started out with.
New York Vice Captain – Cathriona Brady. Aghabog, Co. Monaghan.
Preparation for our return to Ireland is going well.  All the hard training has been done at this stage so we're just ticking over, focusing on ballwork before our return home again.  Although the build-up has been amazing, and we've been trying to savor every moment, we're all really looking forward to game day now at this stage.  
The whole experience feels so familiar, from my days with Monaghan, however there is just as many massive differences as similarities.  Bumper to bumper traffic on the George Washington and blisters on your feet from 110 degree heat never factored in to our preparation at home. Croke Park being over 3,000 miles away requires some planning.  But this also adds to the excitement.  We've had to do massive fundraising to make all this possible – and on that note, thank you to all who have sponsored us, sponsored our events, donated money, bought tickets after tickets, attended fundraisers etc.  And a massive thank you to all who have devoted themselves to the organization of these trips also.  Your support has been fantastic, and we hope we can do you proud.
05/09/11: New York Reactions to Semi Final Win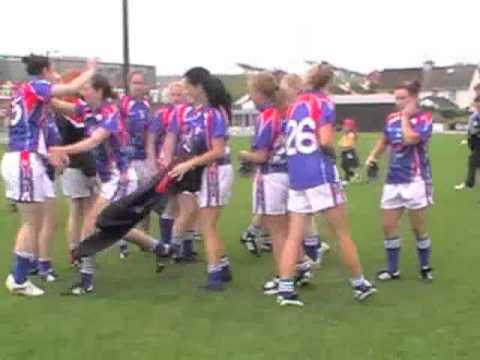 05/09/11: New York's Final Training session before Semi Final: