Westmeath
07/10/2011: Team Lineout for 2011 All Ireland Replay
23/09/2011: Westmeath players look forward to weekend ahead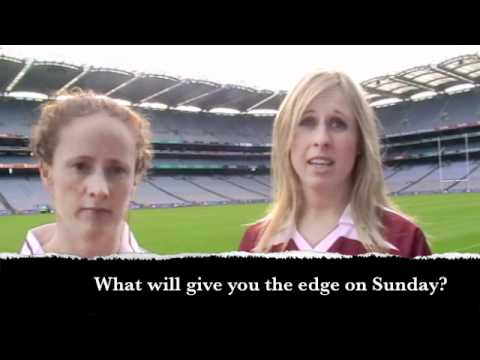 22/09/11: Team Line Out All Ireland Final 2011
20/09/11: Michael Reynolds – Nearly there….
There's something special about training under lights at this time of year. The inclement weather doesn't seem to act as a deterrent as it sometimes does in the early Spring.  It's always hard in January and February, but the feeling you have in September compensates. These are the days you get involved in playing and coaching for.
The past week has been very encouraging with the training levels increasing again and the anticipation within the county rising. The Westmeath Camogie team were unlucky not to win their final on Saturday but had to make do with a draw against Armagh. Hopefully ye will do the business on October 2nd.
This week is just about dotting the 'I's and crossing the 'T's and making sure preparation runs as smoothly as possible. We are going for a walk around in Croke Park later on in the week and this will be a great help when it comes to match day. We will be able to get a feel for the stadium and for the dressing rooms we'll be using.
Our support has been immense all year and they have made a huge difference in all our big games this summer. Both the management and players would love to see similar levels of support this Sunday. Tickets are on sale in various locations and these can be found in the local papers or on the Westmeath Ladies facebook page.
Cavan have been hugely impressive to date and they play a lovely brand of football. It's definitely going to be a great occasion for all the girls and it should be an excellent game of football.
The girls are straining at the leash to get out there but unfortunately waiting until Sunday is part and parcel of the whole process.
We are happy to be part of what will hopefully be a great occasion. But we are there with the aim of nothing less than a win. We have left no stone unturned so far this year and that will be the case again on Sunday.
As Vince Lombardi put it, "If winning isn't everything, why do they keep score?
Hopefully we'll be on the right side of the scoreline this Sunday!
14/09/11: Michael Reynolds – Westmeath Ladies are calling for support from the whole GAA Family…
Where else would you rather be than Croke Park in September? While this may be common practice in some counties it definitely isn't the case in Westmeath. Speaking to people from some of these more successful counties they assure me the novelty never wears off and I don't know how it could, as this is the pinnacle of any person's involvement in the great sport of GAA.
Since my last entry the wheels have been put well and truly in motion with regard off the pitch activities and publicising the 25th of September so as to get as many people as possible into Croke Park. Hopefully there will be a big contingent wearing the maroon and white and cheering the girls on. Or media night takes place Wednesday 14th in Rochfortbridge Hall and will be attended by three members of the panel as well as representatives from the Management team and County Board. Once again on behalf of everyone involved I would like to thank Midlands Radio 3 and the Westmeath Topic for their continued support throughout the year. You have helped raise the profile of the game in the county and given great exposure to the players and the game in general.
Unfortunately one negative fact remains that the Men's County Board continue to show disrespect towards the sport of Ladies football and have again done this by fixing matches for the 25th of September. Not only is this taking away support from Croke Park but it has also left several people in awkward situations with families torn between events. Truly disgraceful considering some of these games could have been played anytime in the past 8 weeks. Twenty four years was the last time a Westmeath ladies team contested an All-Ireland final in Croke Park but this seems to have gone unnoticed in some circles.
Despite this the positives around the county are huge and the atmosphere is building everyday with signs, posters and colours being put up in every available place. Off the field stuff in the build up is without doubt important but no doubt the serious stuff is what goes on the training field. Training is going well and everyone is fighting for their place. There's a healthy mix of excitement and nerves as the lead up continues. The days and weeks are flying. All for one hour on the 25th of September…..BUT what an important hour!
12/9/11: Michael Reynolds, Westmeath Selector, reflects on the last ten day….

It's over a week since the semi final and the celebrations that followed. The old saying that "semi finals are for winning" definitely applies to our game versus Limerick. We as a Management team have since analysed the game by watching several re-runs and it's fair to say that the Management and the girls are under no illusions about how we played.

The first fifteen minutes of the 2nd half aside we were well below our best and we are all in agreement that we need massive improvements all over the pitch. Great credit must go to Limerick team who were fantastic especially considering it's their first year at this level and the future really looks bright for the women from the Treaty County. They have some real quality players and have a good mix of youth and experience throughout their side.

That being said it is important to recognise the outstanding achievement that getting to All-Ireland final day in Croke Park represents. It's the first time that Westmeath ladies will have take to the hallowed turf since 1987. It is a remarkable achievement and full credit must go to the girls and the commitment levels they have shown throughout the past two seasons. I mention two seasons because 2010 was very much a rebuilding process for us and the aim always was to give it a real shot in 2011. So far 2011 has been a special year for ladies football in Westmeath with us winning our first National title by capturing the Division 4 league title back in April and then gaining revenge over our old enemy Longford and claiming victory in the Leinster final on 25th June.

The atmosphere in the county over the past week has been tremendous with a real feel good factor emanating. The messages of congratulations on last weekend and luck for the 25th September have been greatly appreciated by all.

However, we are under no illusions and the hard work has started back. The training is tough but the attitude is second to none. It will take a massive effort by everybody and there will probably only be a kick of a ball in it. Cavan are a quality side and showed that in their semi. We know we'll have to be at our best. The road to Croke Park is well and truly on……

05/09/11: Post Semi Final Interviews 05/09/11: Highlights from the Semi Final Win over Limerick