Wicklow
07/10/2011: Team Lineout for 2011 All Ireland Replay
06/10/2011: Aisling O hAnnaidh looks forward to the 9th.
After the final hooter we hit the dressing room with some mixed emotions. We missed a lot of chances in the dying minutes of the game, and could've sneaked it right at the end. But then again, New York still looked dangerous and equally they could've had the winner if Mary O'Rourke wasn't dispossessed on the 21.
The journey back to Wicklow was an eventful one; we stopped at Kilbride to see the giant hay-bail teddy bear erected by the Donohoe clan then on to Tinahely, where a Garda escort guided us through the throng of fans! Our supporters were waiting for us back in the Arklow Bay Hotel where we had one night to relax before getting straight back to training on Tuesday.
The weekend training was mostly made up of water-based activities with waterpolo in the torrential rain on Saturday in Annacurragh and kayaking on Sunday at Avon Rí. We were all quite nervous before the first final and the session in Blessington was just what we needed, a bit of fun. The nerves have dissipated somewhat and the mood in the camp is one of quiet confidence. All the hype about Croke Park; the tickets, the telly, the fake tan…. that's all gone, and we are approaching the replay with a more relaxed approach this time.
We have watched the DVD of the game over and over again. It's a bit like watching Titanic I guess – you know how it's going to end but it doesn't ruin the story. Every pass, every block and every shot has been analysed and there's not much work left to do now. At the start of the season I never imagined playing twice in Croke Park in the space of two weeks – the first time was a little overwhelming, but this time nothing will phase us.
23/09/2011: Wicklow Women talk about the buzz in the County..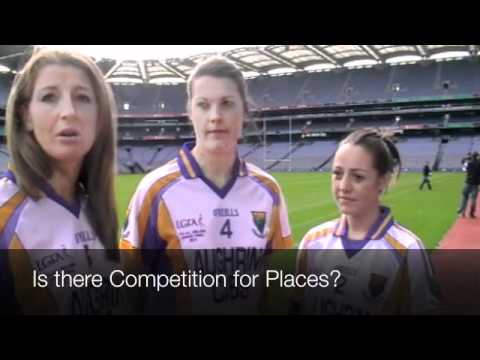 22/09/2011: Time Line Out All Ireland Final 2011
20/09/11: Interview With Wicklow Goalkeeper Emer Miley
16/09/11: What does Laurie Ahern think of Media interviews…
It's been all go since the semi final and preparations have stepped up a gear on and off the field.
We wouldn't be that used to training into September so it feels like we're back into pre-season again with everyone taking out the leggings and thermals.. but as Captain Catriona would say "where else would you rather be." Intensity at training has been lifted to a new level. Obviously everybody wants to start in Croker on the 25th, so training games have been as tough, if not tougher, than any match we've played this year.
Off the field there's been plenty of activity. The Bray girls had trouble getting to training the other night with the media hounding them so to deal with this kind of pressure from paparazzi, we held a media night in the An Tóchar clubhouse on Tuesday evening after training. This gave them the opportunity to take photos and have their questions answered in a controlled environment. We've had a few dodgy interviews as well, some more interested in knowing who's the best dressed, craziest and least punctual on the squad.. Looking forward to seeing the answers in the local papers this week!!
We visited local schools around the county and held a night for some of the juvenile teams to come and have a kickaround with the squad. It was great to be able to tell them that this is where they could be if they keep it up. The kickaround consisted of sticking Emo and Dev in goals and letting them rain shots in on them for a good hour. All in all, the county has shown great support and have really gotten behind us these last few years so it's been nice to eventually be able to give something back by visiting the juvenile teams and schools.
We travelled to the New York-Wexford Semi Final two weeks ago but it's hard to judge a team after seeing them play only one game. They seemed quite a physical and experienced side but sure we'll be as well prepared as we'll ever be so we're all just looking forward the day.
14/09/11: The Media Machine in Wicklow is in Full Swing…
See the below links to Wicklow Interviews from their Media Night
02/09/11:Laurie Ahern reflects on the Semi Final win and the week gone by in Wicklow

I'm not sure whether the feeling was relief, disbelief or just happiness when the final whistle went in St. Peregrines a week ago. Expectations had been equally as high last year, as the panel prepared for a playoff/quarter final with Louth and things just simply didn't go our way on the day.  With that still in mind, I don't think there was need for any other motivation going into this game.
The first half couldn't have gone any better for us. Everyone settled quickly and we just seemed to do the simple things right. We were down to 14 at one stage but sure if it made us work that little bit harder then we'll take it… The defending was outstanding in the first half. The backs gave Louth nothing and the forwards worked hard to chase,  leaving them heading into the second half scoreless. That was a massive boost for our confidence going in at the break, making the team talk easy for Captain Caitriona.
The first ten minutes of the second half didn't really go to plan. We made hard work of it, letting them back into it a bit. I'm not sure what was going through everyone elses head at this stage but I don't think I was alone as thoughts of last seasons loss started to creep in. Realistically though, as a squad we had learnt our lesson and we wern't going to let a lead like that slip again.
Training on Tuesday was great, a bit quieter aswell because the babas were allowed off to their debs.. There was no moaning from anyone when Dom and Murt decided the footballs weren't needed for the session.  Everyone's just delighted to be still training into September, sure at the end of the day that's every county panels target at the start of the season. The only complaint I did hear was from some of the girls saying that they'd miss having a few drinks in Quinns before heading to watch the finals.  Not sure if there'll be time for that this year though but sure it'l be a nice change to be on the pitch instead!!!
I'd say most of the girls will be heading down to Birr this weekend to watch the Wexford / New York game. We havn't a clue what to expect from New York so it will be good to watch how they play but I really don't think there's any preference as to who we'd like to come up against in the final. On one hand, we know how dangerous Wexford can be, having already come up against them three times this year. Sure we probably know each other inside out at this stage. They've the two Evereds inside who are quick and with the likes of Foxy and Sharon Kehoe controlling the ball into them, they'll be hard to stop if New York arn't use to how they play. On the other hand New York are a complete unknown.
Either way our football family are looking forward to the next few weeks and preparing for an All-Ireland Final….
1/09/2011: Wicklow video

29/08/2011: 21st Party for Wicklow…..
21 years ago Wicklow won the Junior All Ireland Final. On the 27th of August 2011 the Wicklow women of today booked their place in this year's TG4 Junior All Ireland Final.
Wicklow have been recording decent performances over the last number of years but have never managed to reach a final. They were ecstatic when the final whistle blew in their semi final against Louth.
Wicklow had a tough prospect with Louth as their semi final opposition. The Wicklow women looked fit and performed well as a team. Louth simply couldn't match them.
The Wicklow Management will be keen to keep their players focused on September the 25th. None of them would have experienced this before so the next 4 weeks will be crucial. They will come up against either a seasoned Wexford side that have experience in Croke Park, or the unknown package of New York. If Wicklow prepare well and perform on the day the first game on the 25th of September could be a cracker!